1.12.2023-28.1.2024
Winter Circus Super
When the superheroes of the circus come together, it's the start of an amazing adventure! World-class circus skills and live music for all ages.
In the universe of Winter Circus Super, the good guys, the bad guys and the ordinary do their tricks in the battle arena of the Dance House Helsinki. There's acrobatics, magic and mind-blowing moves on the streets and rooftops of the city. Live music is provided by circus band Ninja Beat, whose explosive rhythms give the superheroes extra power.
Circus artists and musicians from Australia, Finland, South Africa, Italy, Sweeden, Mexico, Switzerland and South Africa. The disciplines include trampoline acrobatics, martial arts, clowning and aerial acrobatics.
Directed by Sanna Silvennoinen. Find out more about the planning team and the performers.
Ticket prices
Weekdays Mon – Thu / Fri -Sun and public holidays (duration of the show approx. 2 h, incl. intermission)
Adult 26-38 / 31-45 €
Child (0-17 v.) 18-25 / 22-32 €
Pensioner 24-35 / 29-41 €
Discount ticket (student, unemployed, civil servant, conscript) 18-25 / 22-32 €
Theatre professional 18-25 / 22-32 €
Family ticket (2 adults and 2 children) 80-116 € / 92-132 €
Morning shows at 10 AM (duration approx.1 h)

15 €
Map of the stage
The stage is divided into three price categories. The different price categories are marked in different colors.
Category A: red
Category B: blue
Category C: green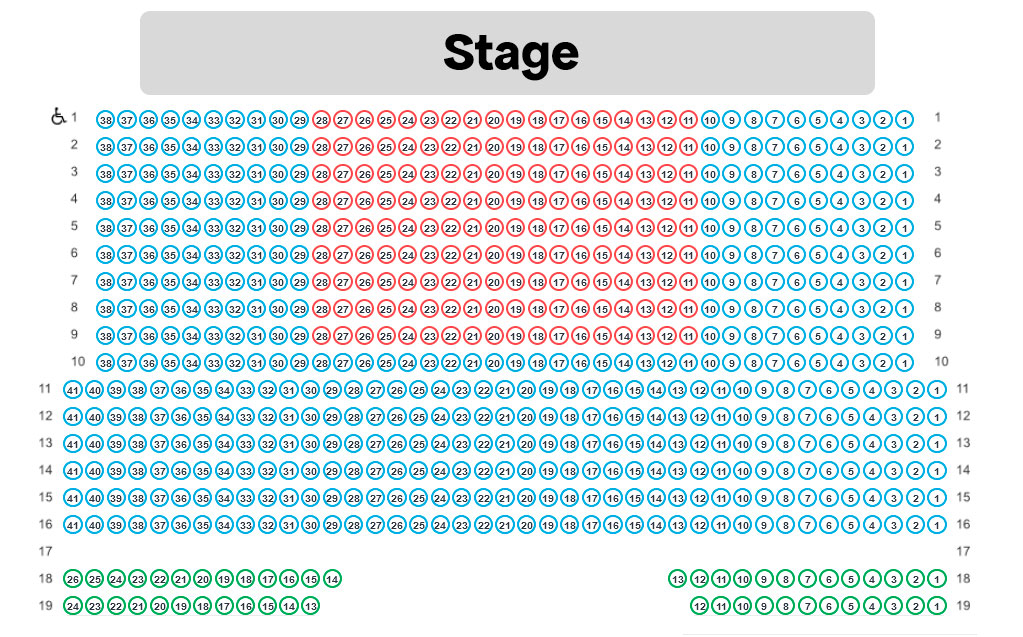 Services
Coatroom: The Dance House Helsinki coatroom is located in the basement which is accessible through the Dance House lobby. An accessible coat stall is located in the Dance House lobby. NB! Our theatre is not responsible for any items or clothes left in the coatroom.
Refreshments: Intermission refreshments are available through Dance House Helsinki's (t)raba restaurant. Bookings and more information here (in Finnish) or tanssin.talo@restel.fi, phone 041 731 6911.
Toilet facilities: Combined accessible toilet and childcare room as well as unisex toilets are located in the lobby.
Strollers: If possible, we recommend arriving to Winter Circus without strollers. If necessary, the personnel will guide you on where to store the strollers.
More on accessibility: The ground floor of Dance House Helsinki is accessible with no thresholds. There is wheelchair seating available in the front row of the Erkko stage. The entire front row is accessible without stairs or thresholds. Please note that otherwise the audience structure is steep! Assistant seating free of charge. There is an induction loop available for those using a hearing aid.
Read more about Dance House Helsinki and accessibility.
Location and accessibility
Buy tickets
Date
1.12.2023-28.1.2024
Duration
Approx. 2 h, incl. intermission; morning shows at 10 AM 1 h, no intermission
Tickets
26-45 € / 18-32 €
Venue
Erkko Hall, Dance House Helsinki
Suggested age
For all ages (3+)
Other
Strong theatrical lights and smoke can be used in the performance.
Next performances
Winter Circus 2023 credits
Direction: Sanna Silvennoinen
Script: Sanna Silvennoinen & Johanna Keinänen
Music: Ninja Beat (Niko Votkin, Einari Stylman, Tapani Varis)
Sound design: Atte Olsonen
Costume design: Mirkka Nyrhinen
Light design: Juho Rahijärvi
Set design: Nyrhinen & Rahijärvi
Choreography: Jussi Väänänen & Katja Koukkula
Performers:
Jaimee Allen (South-Africa): trio trapeze, cloud swing
Yuridia Ortega Fragoso (Mexico): dance, hair hang
Gabriele Goria (Italy): kungfu
Florian Grobéty (Switzerland): trampoline acrobatics
Nathan Jones (Australia): cloud swing
Valpuri Kaarninen (Finland): trio trapeze
Gaby Muñoz (Mexico): clowning
Maria Peltola (Finland): trio trapeze
Raphaël Perrenoud (Switzerland): trampoline acrobatics
Eetu Ranta (Finland): diabolo, whips
Guzalnur Uqkun (Uyghur/Sweden): contortion
Vanamo Alatalo (Finland): karate – in evening and weekend shows only, alternating with Antonia Ortiz Myllylahti
Antonia Ortiz Myllylahti (Finland): karate – in evening and weekend shows only, alternating with Vanamo Alatalo
Production: Dance Theatre Hurjaruuth 2023